Medwave 2016;16(Suppl 1):e6368 doi: 10.5867/medwave.2015.6368
Is vitamin D supplementation effective for the prevention of falls in elderly people?
Franco Scheel, Marcela Carrasco
Abstract
Falls in elderly people are common and come with important effects on morbidity and mortality, dependence and institutionalization. It has been proposed that supplementation of vitamin D could prevent the occurrence of this event. Searching in Epistemonikos database, which is maintained by screening 30 databases, we identified 18 systematic reviews including 31 randomized trials. We combined the evidence using meta-analysis and generated a summary of findings table following the GRADE approach. We concluded the use of vitamin D probably leads to little or no difference in the risk of falling in elderly people.
Problem
Falls syndrome is an important problem in geriatric population. The third part of patients above 65 years old experience a fall every year and the risk of falling increases with age [1],[2]. Approximately, one of ten people would have serious consequences, such as bone fracture, subdural hematoma, soft tissue injury or cranial trauma [3],[4],[5]. On the other hand, it is associated with a decrease in functionality and earlier entry to care facilities and hospitals [6].
Vitamin D has diverse physiological effects due to the existence of 1,25-hydroxi-vitamin D receptors around the majority of the human body tissues. The presence of these receptors in muscles would explain the relationship between vitamin D deficiency and myopathy, weakness and muscular pain [7]. It has been proposed that supplementation of vitamin D would lead to an improvement in muscular strength and prevention of falls [8],[9], even in patients with no vitamin D deficiency.
Methods
We used Epistemonikos database, which is maintained by screening more than 30 databases, to identify systematic reviews and their included primary studies. With this information we generated a structured summary using a pre-established format, which includes key messages, a summary of the body of evidence (presented as an evidence matrix in Epistemonikos), meta-analysis of the total of studies, a summary of findings table following the GRADE approach and a table of other considerations for decision-making.
Key messages
The use of vitamin D probably leads to little or no difference in the risk of falling in elderly people.
There could be a subgroup of patients that might benefit, such as those with low levels of vitamin D demonstrated or highly probable.
About the body of evidence for this question
What is the evidence.
See evidence matrix in Epistemonikos later

We found 18 systematic reviews [10],[11],[12],[13],[14],[15],[16],[17],[18],[19],
[20],[21],[22],[23],[24],[25],[26],[27],
which in total included 31 randomized controlled studies reported in 66 references
[8],[26],[27],[28],[29],[30],[31],[32],[33],[34],[35],[36],[37],[38],[39],[40],[41],
[42],[43],[44],[45],[46],[47],[48],[49],[50],[51],[52],[53],[54],[55],[56],[57],[58],
[59],[60],[61],[62],[63],[64],[65],[66],[67],[68],[69],[70],[71],[72][73],[74],[75],
[76],[77],[78],[79],[80],[81],[82],[83],[84],[85],[86],[87],[88],[89],[90],[91].

What types of patients were included

The patients that were included corresponded to elderly people (65 years or above) in care facilities, hospitals or patients living in the community. Studies did not restrict their inclusion criteria according to levels of vitamin D prior to supplementation.

Most patients were women.

What types of interventions were included

Interventions varied regarding calcium combination, doses, schemes and ways of administration of vitamin D. Twenty-four different ways of intervention were identified including vitamin D. Thirteen studies [9],[34],[39],[49],[51],[63],[64],[68],[69],[70],[75],[76], [83],[84] included calcium in the intervention group.

Different vitamin D doses schemes were used. Doses under 800 Ul per day were used in six different studies [34],[38], [49],[58],[60],[64].

In 22 studies [8],[9],[30],[38],[39],[45],[49],[51],[58],[60],[61],[63],
[64],[68],[69],[70],[75],[76],[84] vitamin D was given daily, in two [33],[91] weekly, in one [57], every three months and in one [90] every four months.

In other two studies [82],[87] it was used annually and in three studies [18],[43],[61] in a single dose. The comparison was against placebo, control group, strategies for falling prevention and calcium administration in 600 mg, 1000 mg and 1200 mg doses.

What types of outcomes
were measured

This summary, as well as the majority of the identified reviews, analyses only the outcome of falls.
Summary of findings
The information on the effects of vitamin D on the risk of falls is based on 31 randomized trials that include 45,616 patients. However, three of these studies did not present data in a way that could be combined [33],[51],[82].
The use of vitamin D probably leads to little or no difference in the risk of falling in elderly people. The certainty of the evidence is moderate.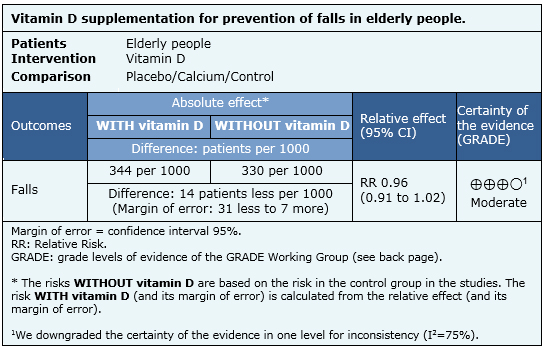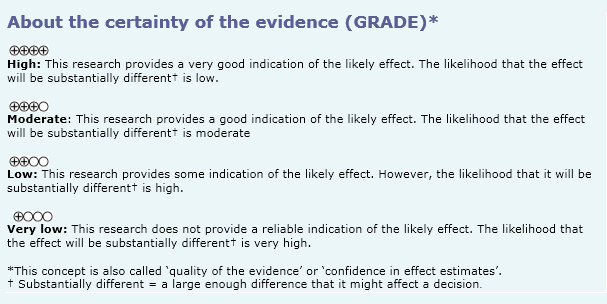 Other considerations for decision-making
To whom this evidence does and does not apply
This evidence applies to patients 65 years old or more, living in the community, care facilities or hospitals.
This evidence does not apply to selected patients such as patients with low levels of vitamin D, issue that has not been covered along this summary.
About the outcomes included in this summary
According to the authors of this summary, fallings are considered as one of the critical outcomes for decision-making in most elderly patients considering this intervention. The possible benefit of vitamin D administration on other outcomes has not been considered in this summary.
Balance between benefits and risks, and certainty of the evidence
The evidence shows tha

t a

dministration of vitamin D in elderly people

probably

has no benefit in falls prevention.
Resource considerations
While it is a safe and low cost intervention, having no benefits makes the cost/benefits balance not favourable.
Differences between this summary and other sources
The key messages from our summary are consistent with the main systematic reviews identified [12],[16],[17],[19],[20]. Their conclusions are the supplementation of vitamin D does not appear to reduce the risk of falling, but it may have benefits in some subgroups, such as those with low levels of vitamin D [16],[19], when vitamin D is combined with calcium [20] or in patients at care facilities or hospitals [16].
The main conclusion of this study is discordant with the guideline of The American Geriatric Society [92], which recommends vitamin D with calcium supplementation for preventing falls in patients living in the community, care facilities or hospital.
Could this evidence change in the future?
The probability that future

information

changes the main conclusions of this summary

is

low, due to the certainty of th

e evidence

.
New systematic reviews including all of the existing evidence could give more information about subgroups that might benefit.

How we conducted this summary
Using automated and collaborative means, we compiled all the relevant evidence for the question of interest and we present it as a matrix of evidence.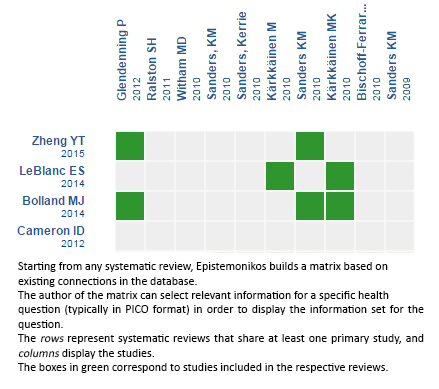 Follow the link to access the interactive version: Vitamin D for falls prevention
Notes
The upper portion of the matrix of evidence will display a warning of "new evidence" if new systematic reviews are published after the publication of this summary. Even though the project considers the periodical update of these summaries, users are invited to comment in Medwave or to contact the authors through email if they find new evidence and the summary should be updated earlier. After creating an account in Epistemonikos, users will be able to save the matrixes and to receive automated notifications any time new evidence potentially relevant for the question appears.
The details about the methods used to produce these summaries are described here http://dx.doi.org/10.5867/medwave.2014.06.5997.
Epistemonikos foundation is a non-for-profit organization aiming to bring information closer to health decision-makers with technology. Its main development is Epistemonikos database (www.epistemonikos.org).
These summaries follow a rigorous process of internal peer review.
Conflicts of interest
The authors do not have relevant interests to declare.
Referencias
Esta
obra
de Medwave está bajo una licencia Creative Commons Atribución-NoComercial 3.0 Unported. Esta licencia permite el uso, distribución y reproducción del artículo en cualquier medio, siempre y cuando se otorgue el crédito correspondiente al autor del artículo y al medio en que se publica, en este caso, Medwave.